Our team members come from institutions in the LA area, out of state, and even internationally. Some come in as undergraduate or graduate student interns and work for a summer up to several years. Some team members are mentor funded; some come in with their own funding through fellowships, student awards, or external grants. Some work with us as visiting researchers or remotely. We also regularly collaborate with many excellent researchers and colleagues both from inside JPL and from institutions around the world.
Students, Postdocs, Researchers
Cathy Trejo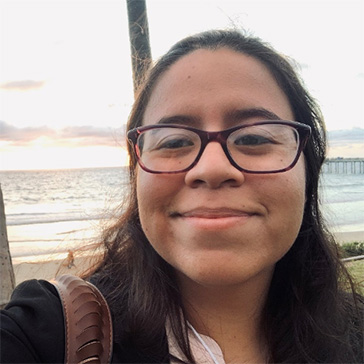 Cathy is a graduate student working in the OHL for her Master's thesis in Civil Engineering at Cal State LA. She has her B.S. in Environmental Biology from Cal Poly Pomona and her work focuses on assessing the fate and transport of polycyclic aromatic hydrocarbons in hydrothermal vent systems.
Bonnie Teece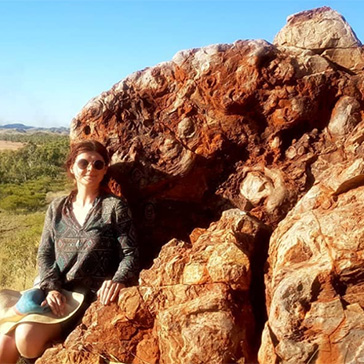 Bonnie is a JPL postdoc in the OHL, working on the InVADER hydrothermal vent project. Bonnie has a B.A in English Literature and Russian Studies and a B.Sc in Museum Studies from Macquarie University in Australia. She then completed a Master of Research with high distinction in Earth and Planetary Sciences from Macquarie University, and her PhD in Organic Geochemistry and Astrobiology at The Australian Centre for Astrobiology at the University of New South Wales. Bonnie's PhD research focused on the reliability of organic biosignatures, primarily in hydrothermal environments.
Katherine Dzurilla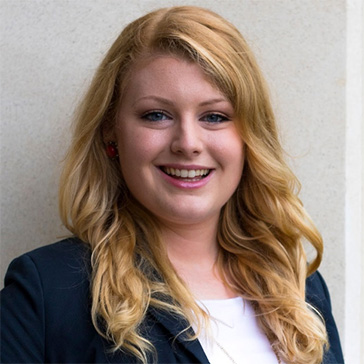 Katherine Dzurilla is a JPL postdoc in the OHL currently working on astrobiology on ocean worlds. She completed her B.S. in Biochemistry and B.S. in Physics from Oklahoma State University and went on to get her Ph.D. in Space and Planetary Sciences from the University of Arkansas.
Adam Robinson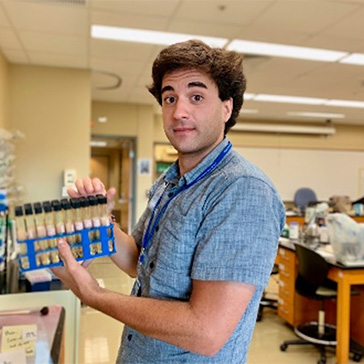 Adam is a microbiologist at St. Petersburg College, where he earned a B.S. in Cell & Molecular Biology. He is working with the OHL to investigate halophilic microorganisms exposed to Mars-like conditions. This research seeks to explore the possibility of discovering extinct or extant life on Mars.
Matt Luna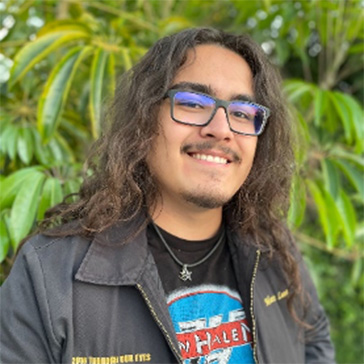 Matt is currently a second-year Biochemistry undergraduate student at Citrus College. He is working with the OHL to analyze the effects of Mars minerals on potential prebiotic chemistry reactions in Gale Crater, and how current missions might be able to observe signs of these past organic processes. He is a student collaborator with the Mars Science Laboratory team.
Breanna Javier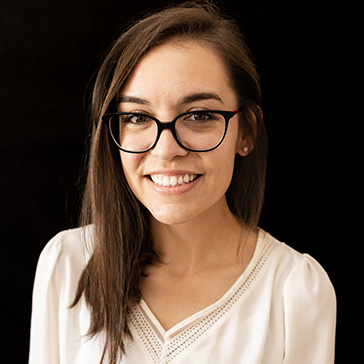 Breanna is a first-year doctoral student in the Department of Biology at Caltech. She received her bachelor's degree in Cellular & Molecular Biology from Princeton University. She is currently researching preservation methods of cellular life in brine systems and methods to extract biogenic evidence. Breanna's projects include microbial assessment of nucleic acids and proteins in hypersaline systems, measurements of microbial communities in Li-enriched brine systems, and Raman spectroscopy of preserved cellular life.
Julia Chavez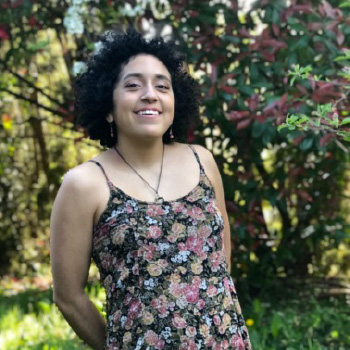 Julia is working on her Master's in Environmental Engineering at CSU Los Angeles. She has a Bachelor's in Mathematics from Lewis & Clark College. She is working with the OHL to simulate hydrothermal vents in the lab. In particular, she will study saponite precipitates: their use in carbon dioxide sequestration and their relevance to habitable environments on early Earth and early Mars.
Nancy Carman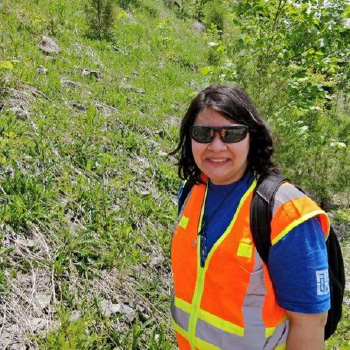 Nancy is a Geosciences graduate student at the University of Nevada, Las Vegas. She works on determining the degree of diagenesis on Mars, specifically looking at if there are S-containing organic minerals from Vera Rubin Ridge and Glen Torridon, mainly focusing on Mn sulfides. She is working with the OHL to simulate the growth of hydrothermal chimneys with conditions analogous to the Strytan hydrothermal field in Iceland, an analog to hydrothermal environments on early Mars.
Meghan Winzler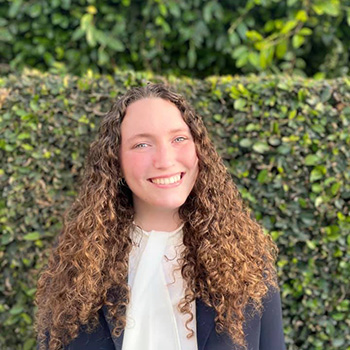 Meghan is a Microbiology undergraduate student at CSU Long Beach. Meghan is working with the OHL to characterize geological samples from hypersaline brines through the isolation and extraction of DNA, RNA, and proteins. These brine samples are from mineral-brine field sites that range in age from modern/surface settings to geologically old samples dated to be ~253 Myr and are of great interest as homologs to the Martian hypersaline evaporite mineral environment.
Paulina Cortez
Paulina is a STEM Teacher and Researcher (STAR) Program fellow with a Bachelor's degree in Biology and Spanish from San Diego State University and just recently graduated with her Bilingual Single Subject Teaching Credential in Biological Sciences also from SDSU. Through her STAR project, "What Does It Take To Make A Biosignature?", she will assess the gene expressions of in-situ samples from hypersaline brine sites and their associated DNA, RNA, and protein profiles from preserved microbial community sources.
Jose Valera
Jose is starting a PhD in microbiology (Fall 2021); his main goal is to investigate and understand specific extreme microorganisms ("extremophiles'') that inhabit planetary analogue environments such as hypersaline lakes and hot springs. He is working with the OHL to use these studies to bridge gaps between observational biosignatures and microbiological exchanges in the environment.
Devan Nissan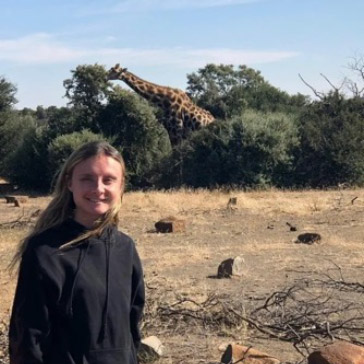 Devan is a geosciences Ph.D. candidate in the Onstott Lab at Princeton University. She is working with the OHL to investigate the unique abiotic/prebiotic geochemical signatures of a hypersaline brine in the deep subsurface of South Africa's Witwatersrand Basin.
Jessica Weber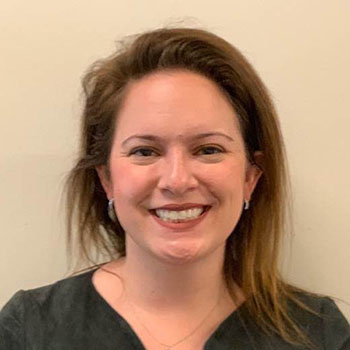 Jessica Weber is a research scientist at JPL. Her research focuses on prebiotic synthesis and reaction of organic materials, chemical weathering of mineral analogs, and the origins of metabolic pathways. Jessica has also been involved in the 2019 Caltech-JPL Venus Seminar Series, Enceladus Vent Explorer (EVE) mission concept, and the 2020 Planetary Science Summer School. Jessica is a founding member of both the Network for Ocean Worlds early career group, Future Leaders of Ocean Worlds (FLOW), and the VEXAG affiliated Venus Early Career group. Jessica earned her Ph.D. in Chemistry from MIT and a B.S. in Chemistry from U of Chicago.
Chhandak Basu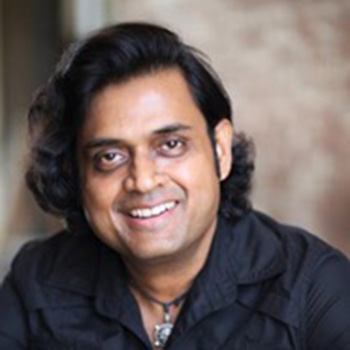 Dr. Chhandak Basu is a Professor of Biology at California State University, Northridge. His research focuses on understanding the molecular, biological, and genomic aspects of abiotic stress tolerance mechanisms in microbes and plants in extreme environments. Dr. Basu currently collaborates with the OHL on astrobiology research, particularly studying gene expression patterns in extremophile microbes collected from planetary analog field sites.
Theresa (Tess) Marlin
Tess is pursuing a Ph.D. in Geological and Planetary Sciences at Caltech. In the OHL she studies prebiotic chemistry via chemical gardens, which are analogues of hydrothermal vents. She also studies Titan, Saturn's largest moon, via laboratory science and observational astronomy.
Ellen Czaplinski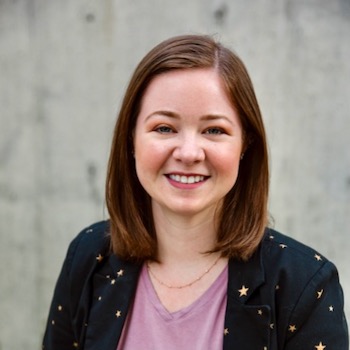 Ellen is a NASA Postdoctoral Fellow studying organic chemistry and crystallization of molecules under Titan-relevant conditions using micro-Raman spectroscopy, FTIR spectroscopy, and X-Ray Diffraction. She is also working in the OHL investigating the stability and reactivity of organic molecules under Ceres-relevant conditions. Ellen earned her Ph.D. in Space and Planetary Sciences from the University of Arkansas and a B.S. in Planetary Science from Purdue University.
Seneca Velling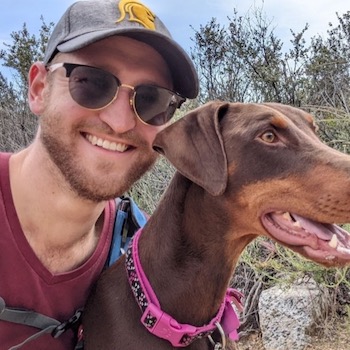 Seneca is a doctoral student in Materials Science from the Division of Engineering and Applied Science (EAS) at Caltech. He is working on catalytic scaffolds and flow through reactors for prebiotic hydrothermal chimney growth & materials characterization in the OHL. He received his Honours B.Sc. in Materials and Nanoscience from the University of Waterloo (2019) focused on solid-state and biomaterials. He earned his M.Sc. in Materials Science from Caltech (2023) focused on metallo-polyelectrolytes, thermochemistry, and architected electrodes.
Gregory Zaugg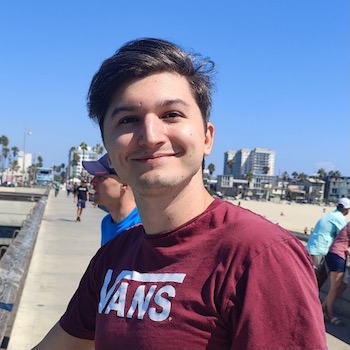 Gregory is a Master's Student in Nanosciences at the University of Basel, Switzerland. In his Master's Degree he focused on Molecular Microbiology, Biophysics, and Engineering. He has previously worked on mathematical modeling and data science for long-term breast cancer outcome prediction and for his Master's Thesis he led the development of a novel prototype for affordable ultrahigh-resolution optical coherence tomography (OCT). In the OHL he's working on iron-sulfide hydrothermal chimney growth and characterization.
Keith Chin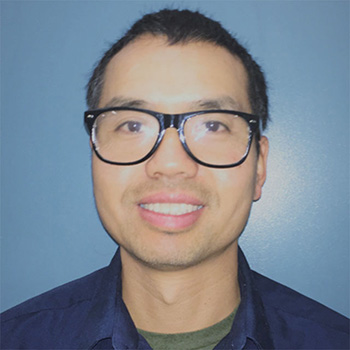 Keith is a JPL Technologist in the JPL Electrochemical Technologies group. His research focuses on the development and infusion of energy storage, energy generation, and in-situ electrochemical instrumentation (development, modeling, and prototyping) technologies for a broad range of autonomous spacecraft systems. Keith frequently collaborates with OHL researchers on astrobiology projects, particularly on development of electrochemical in-situ instruments for monitoring planetary environments.
John-Paul Jones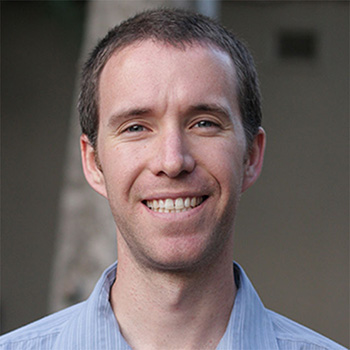 John-Paul is a JPL Technologist in the Electrochemical Technologies group. His research focuses on lithium metal batteries, lithium sulfur batteries and fuel cells for extreme environments, with an overall focus on energy storage and conversion. John-Paul frequently collaborates with the OHL on astrobiology research particularly in the area of adapting fuel cell technology to simulate planetary habitability and energy for redox metabolism in ocean world systems.
Dennise Valadez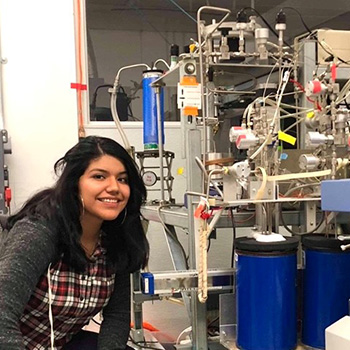 Dennise worked in the OHL for her Master's thesis in Physics at Cal State LA; her research focused on redox reactions of iron and sulfur in Ceres analog minerals, and studying prebiotic chemistry of cysteine in early Earth conditions. She is now a GEM Fellow at General Atomics and a Ph.D. student in Physics at Purdue University.
Eduardo Martinez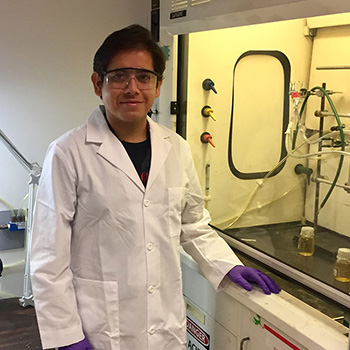 Eduardo worked in the OHL for his Master's thesis in Civil Engineering at Cal State LA; his research focused on abiotic nutrient (e.g., N and P) and organic acid (e.g., amino acids) cycling facilitated by iron (oxy)hydroxide and iron sulfide minerals. He is currently a 2023 California Sea Grant State Fellow with the Delta Science Program Collaborative Science and Peer Review Unit.
Jazmine Robledo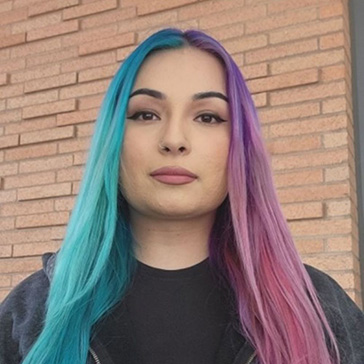 Jazmine Robledo is an undergraduate at the University of California Riverside studying Physics. She is interested in the applications of machine learning for planetary science. She worked with the OHL on developing a web application and machine learning models to facilitate the analysis of publicly available oceanographic datasets in an effort to elucidate how deep-sea hydrothermal vents influence biological activity at the ocean's surface.
Billal Zayat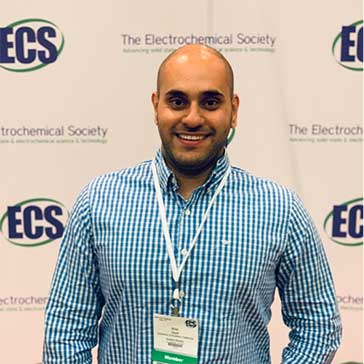 Billal worked with the OHL on fabricating and electrochemically characterizing synthetic mineral geo-electrodes for detecting life on ocean worlds, while he was a Ph.D. student in Chemistry at the University of Southern California. He is now working in the electrochemical industry.
Laura Rodriguez
Laura Rodriguez was a postdoc in the OHL who worked on hydrothermal vent geochemistry, phosphorus chemistry in planetary systems, and is part of the INVADER vent exploration project. Laura her B.S. in Geochemistry at Rice University before obtaining her Ph.D. in Geosciences and Astrobiology at Penn State. Laura is now a Research Scientist at the Lunar and Planetary Institute.
Erika Flores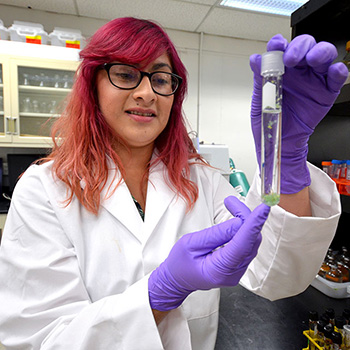 Erika worked with the OHL on prebiotic organic synthesis and phosphorus absorption in hydrothermal systems, as part of her Master's thesis in Environmental Engineering at CSU Los Angeles. She also has a Bachelor's in Chemical Engineering from Cal Poly Pomona.
(Image credit: NASA/JPL-Caltech/Kim Orr)
Rachel Sheppard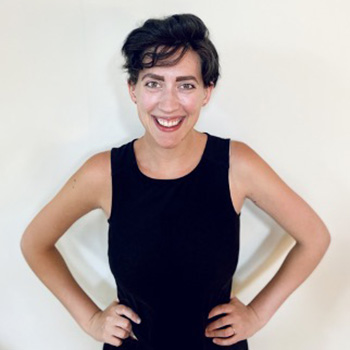 Rachel worked on redox gradients in the martian subsurface as a postdoc in the OHL, and is a member of the MSL science team. She completed her BA in Earth Science at Columbia University studying organic molecules in fault rocks and completed her PhD in Earth & Planetary Science at Brown University studying how water-bearing minerals record aqueous conditions on Earth and Mars. Rachel is now a Research Scientist at the Planetary Science Institute.
Sarah Lamm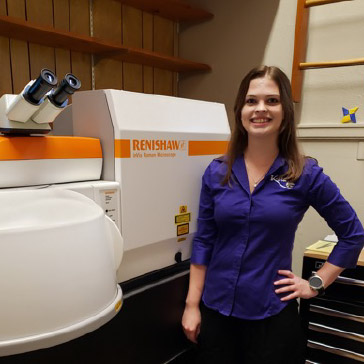 Sarah worked with the OHL as a student intern, on deconvoluting the geochemical signatures of metastable minerals relevant for life in Mars and ocean floor environments using LIBS, Raman, and IR spectroscopy. She is currently a PhD student in Geology at the University of Kansas.
Medha Prakash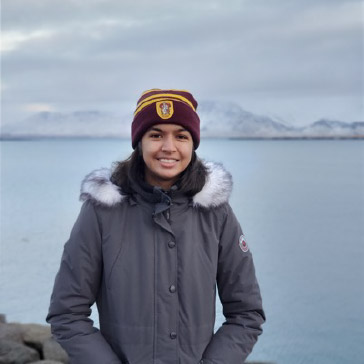 Medha is pursuing a BS in Environmental Sciences at the University of Virginia. She worked with the OHL on carbon reduction reactions in planetary environments, relating to understanding methane on Mars and prebiotic chemistry in early Earth settings.
Jonathan Major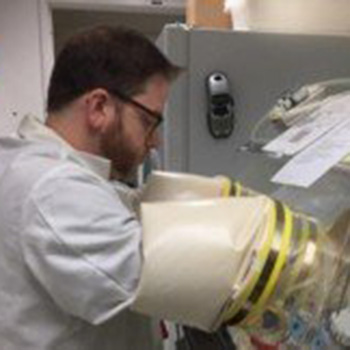 Jonathan worked with us for his M.S. degree on simulating phosphorus chemistry in iron and manganese mineral systems on Mars and ocean worlds, and evaluating habitability in redox active systems. He is currently a Ph.D. student in the Pasek lab at University of South Florida.
Ninos Hermis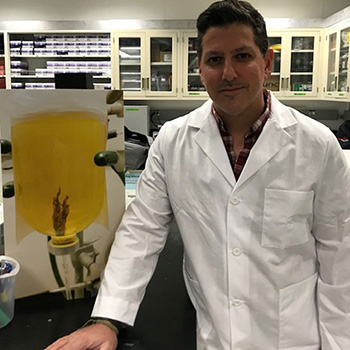 Ninos worked with the OHL on experiments to simulate prebiotic chemistry in hydrothermal vents on the early Earth, and on studying electrochemistry of ocean world analog minerals. He developed a new apparatus to simulate temperature gradients in lab-grown hydrothermal chimneys.
Michelle Hooks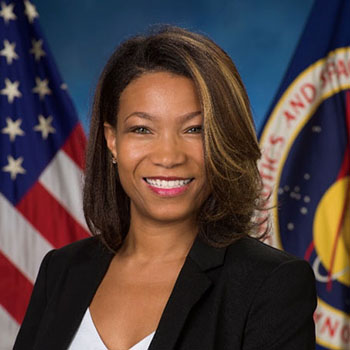 Michelle (STEM Teacher and Researcher fellow; Biology and Education, USC) worked with us on the effects of organic molecules on iron-silicate and iron-hydroxide chemical garden systems, with applications for origin of life and looking for biosignatures on other worlds. She is now working at NASA Johnson Space Center.
Hiroki Nishimura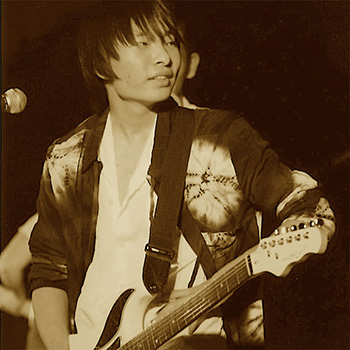 Hiroki is completing his degree in Marine Science at Tokyo University of Marine Science and Technology (TUMSAT). He was a visiting researcher in our lab under the Japan Public-Private Partnership Student Study Abroad Program, and continues to work with us on the effect of amino acids on phosphorus adsorption on iron minerals in ocean systems.
Sarah Crucilla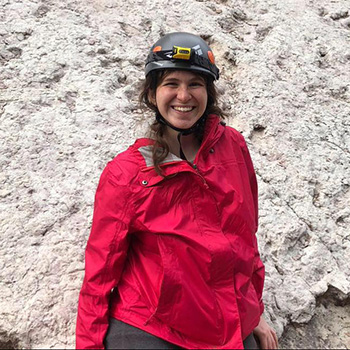 Sarah (geology, Caltech) worked with us on testing how protein cofactors behave in early Earth conditions, and studying how extremophiles live in radiation-intensive environments. She is currently a research assistant at Harvard.
Jemma Dickson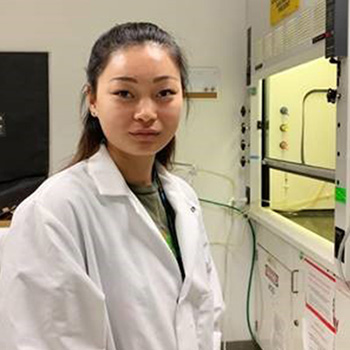 Jemma (chemistry and marine science, College of the Atlantic) worked with us on incorporating microbes into hydrothermal chimney experiments under the Maine Space Grant program.
Jason Pagano
Dr. Jason Pagano is a professor of Chemistry at Saginaw Valley State University in Michigan specializing in silicate chemical garden systems. He conducted his 2018-2019 sabbatical at JPL with our team, working on chemical gardens of iron hydroxide and iron silicate, and the effects of organics on precipitation.
Preston Tasoff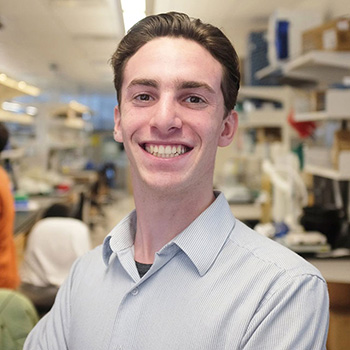 Preston worked with the OHL on validating and measuring DNA preserved in extreme environments, and studying biomarker preservation in harsh UV environments, while he was a microbiology undergraduate student at Washington University, St. Louis. He is now a Ph.D. student at UC Berkeley Environmental Science Management and Policy department.
Tully Mahr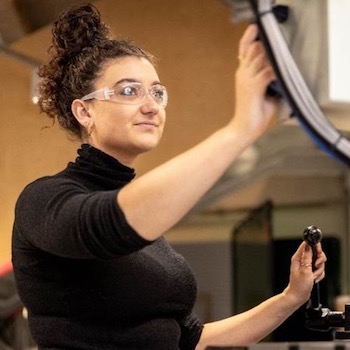 Tully is a graduate student currently completing her Master of Mechanical Engineering at The University of Melbourne in Australia, and has her B.Sc in Mathematics, Physics and Chemistry from the Australian National University. Tully worked with the OHL to conduct mineralogical analysis of compositional gradients in hydrothermal chimneys.